Shopping Cart
Your Cart is Empty
Thank you for your business!
You should be receiving an order confirmation from Paypal shortly.
Exit Shopping Cart
2011 Ford Raptor Project Truck
Location: Brooks Hanna Ford, Butte Montana
Features:
BakFlip F1 Tonneau Cover Lighter and Stronger than Aluminum.

Higher density EPS core.

Superior impact resistance.

Lighter weight panels.

UV protected black finish.

Stays cooler to the touch than aluminum.

Superior performance in extreme weather.

Refined operating components.

2 year factory warranty.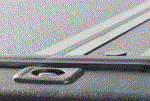 Installation:
Installation is a breeze and can be installed by someone with excellent mechanical skills in less then 20 minutes.
My thanks goes out to the guys at Brooks Hanna Ford for Installing the BakFlip F1 for me. I guess they didn't think my mechanical skills were up to par, and they didn't want me scratching a brand new truck in the process.
Clear,and diagrammed instructions come with the F1 kit.
Click the link below to see the installation instructions in PDF form.
http://www.atvpt.com/BakFlip_F1/BakFlip_F1_install_instructions.pdf
The BakFlip F1 really cleans up the lines of the Ford Raptor box, plus adds dry, clean, security for your cargo at the same time.
John Lovell of Brooks Hanna Ford in Butte comments on how easy an installation this was.
The Main Reason For Installing the BakFlip F1
You can still haul cargo or in this case a Raptor hauling a Raptor
My Impressions:

Pros:

Very easy installation with minimal tools required.

Sleek, form fitting look.

Keeps the elements out and your cargo secure & dry.

Strong durable construction.

Each panel locks in place, and can be fully opened to allow room for larger cargo.

Panels open with one finger pull, making it very simple and easy to operate.

Flat design makes your truck bed more aerodynamic which should give you better gas mileage.

Priced right, and is a very good value.

Cons:

None yet.

Bottom Line:

When I found out that I would be getting the new 2011 Ford Raptor 4 Door for a project truck I was worried that there was no protection for our cargo when we would be on location doing shoots.

I searched around to see what kind of cover would work the best for our application. I wanted a cover that would not take away from the Raptor's Desert Racer looks, had to provide excellent protection from the elements, and finally had to be very durable.

I found several tonneau covers that met some of the requirements, but fell short in the bling department. I stumbled apon BakFlip by accident and was I surprised that their F1 Tonneau Cover more then met my expectations, but surpassed them, and is built super strong to boot.

The guys at Brooks Hanna Ford were all over this Tonneau cover, and had nothing but praise for it's fit & finish, and they know quality truck parts when they see them. They specialize in outfitting your truck with top of the line Ford & Aftermarket accessories. Their reputation is on the line when they install a part on your vehicle and they pride themselves in customer satisfaction, just ask Logan Smith the Accessories MGR., he will get your vehicle outfitted the way you want it.

I have been putting this cover to the test everyday here in Montana's back country. In fact I cleaned the truck at Brooks Hanna Ford 3 times today, well it was kinda muddy, and after all this is a Ford Raptor we are talking about

So far the bed of my truck is perfectly dry, and I feel confident that I can keep my cargo dry and secure in any off road driving situation.

The bottom line is, if you want to get better fuel mileage, keep your cargo dry & secure, you will need some type of cover for your truck. The BakFlip F1 is built tough, and should give you years of service if you take care of it like you would your truck. I would highly recommend checking out what BAK Industries can do you for you when you go searching for a lid for your trucks bed.

BakFlip Contact Info:

Web Site:

Mailing Address:

BAK Industries

2303 SE 17TH ST

Ocala, FL 34471

Phone:

855-294-1351

0

/